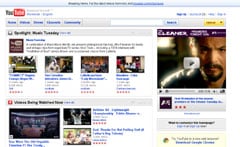 For the last two weeks, we've talked about how to get the gear to make a video and how to turn an idea into reality. Later today I'll finally be presenting our webinar on using web video to tell your story, and today's post is about how to get your video to do something once you've created it.
How you market your video is a unique representing of the type of video you choose to create. For example, there's not much point in Christopher Penn marketing his welcome to my website video. Certain kinds of videos are meant to be shared and spread, others are intended to be more utilitarian.
So what are some of the types of videos you can make, and what's the appropriate way to market them?
Success Stories – Success story videos are excellent. They tell about your company in the words of your customer, helping prospects relate and building a trust relationship that is hard to tell in words alone. But are they going to get 1,000,000 hits in YouTube? Probably not. Put a success story video on your website, absolutely, and get the word out to people who will care about it. Put it in your company newsletter or highlight it on your blog. Make links to it prominent so that your website visitors will get to it. Maybe even burn a DVD to send to prospects who aren't as web-savvy… it's worth it!
President's Message – This kind of message should be prominently featured on your website, easy to find and concise. Sure, you can put it on YouTube, but without being on your site and being interested in your story, who is likely to care? Again, this kind of video is best suited to permission-based communications with people who are already interested in you.
Viral Videos – What makes a viral video a hit is a combination of art, science, and good old-fashioned luck (okay, maybe timing has more to do with it). Unlike videos that are intended to go out to customers who are pre-qualified to enjoy your message, the very intent of a viral video means it has broad appeal. Instead of trying to influence the opinions of a chosen few, a viral video is meant to amuse the masses. NOW you can post it on YouTube, tell all your friends, tweet it, StumbleIt, Digg it… Start with the network of people who care about what you say, and then try to get that network to share it with their network, and soon you'll truly have a viral hit. If your viral video doesn't resonate well enough with people to get shared — well, take a coffee break, shrug, and get back to the drawing board.
As is the nature of online media, the way you get the word out about your video is a unique outcropping of what you have to say. Measuring success by hundreds of thousands of views doesn't make sense for a product demonstration. More important is engagement. Whether people care.