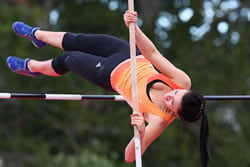 Whenever I am about to try something scary (like, really scary) I use the analogy with my teacher, coach, employer… "It's like pole vaulting to me."
I do NOT understand the margin of error in pole vaulting. You are either gracefully over the pole on a safe mat, or your face is ground into the dirt and your pride is 8 feet behind you. I said this when I wrote my first blog, when I did my first webinar, when I spoke at my first conference. It's my shtick I guess. The good news is – I for the most part have always landed on the mat.
Want to know the secret? It's not as difficult as you think.  Having done it myself, here are the biggest three social media tumbles I see businesses make:
Knock, knock – Anyone home?
Working with clients on their social media strategy, I find that the biggest hindrance is the fear of not knowing what to write, blog, post or share. You can strategize all you want but the end result isn't a carefully crafted plan – it's content. Actual content that people are looking for to learn from, share and use to potentially make their next purchasing decision. Stop the crickets chirping and just get out there and write some interesting content!
Me, me, me
Once you are set up and you know what communities you are going to participate in the easiest thing to write about is YOU. Unfortunately not many people care about you, they care about themselves, their needs, their question, their problem. Is your product or service something that is going to help any of these people with their problems? Talk about that. Talk about what your customers need, in the language they use and in the community they participate in. The content you produce isn't about what you are ready to talk about – it is about what your customers are ready to hear from you.
Have to beat my competitor
We are competitive by nature – I know. I see a lot of wasted energy with people consumed with what their competitor is doing with their social media space. The most unique opportunity with creating a social media space for you and your company is the ability to be yourself.  The ability to show corporate transparency. What makes your company its own entity. Try not to stress with what your competitor is doing. Stress about how you are going to make the most accurate reflection of you and your products and services. Stress about the best tools to use to offer as much as you can to your potential clients.
From my small knowledge of pole vaulting one thing is for sure – if you don't fully commit to you getting your butt over that pole you are probably going to crash onto the floor. Let's apply that to social media marketing as well. Your level of commitment is probably going to effect your success. So are you going to make it over the pole? Or will you just sit on the mat and not even try?
Photo credit: carl_blake
Want to Know More Now
Read: Business Owners Need to be More Involved with their Marketing Strategy
Read: 5 Tips to Take Charge of Your Social Media Strategy
Read: The Marketing Power Shift – Are You On Board Or Will You Be Left Behind?