This is an entry in our daily Internet Marketing Advent Calendar series. Each day your favorite marketing elves will focus on a new topic to get your internet marketing in order before the start of the new year.
I've always been against snooping around to find out what I'm getting for Christmas before the actual day. Gifts are always more fun when you're not expecting them – for both the person giving the gift and the one unwrapping it. So this year, instead of snooping around, I'm allowing you to get a little of sneak peek of something.
It's called Qwiki, and it's in "Alpha," which basically means they actually want us to check it out before it's unveiled to the public. Qwiki is described as an "Information Experience." As a user, you can type in anything you're searching and the search will render a "Qwiki;" an experience that coordinates images, audio, and information to relay that what you had searched for.
Check out the Qwiki of one of the items on my Christmas wish list. How does it work? According to its creators, this platform aggregates content from a multitude of places online, takes that static content and then produces a programmatic animation – but it's not a video.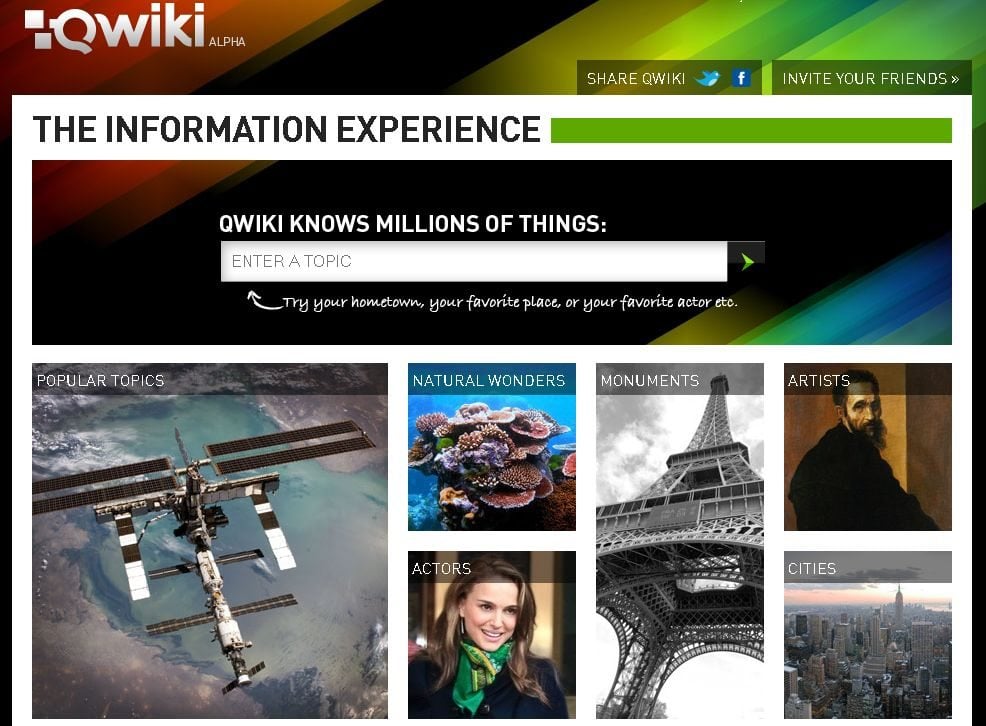 Qwiki – The Information Experience
My thoughts? It definitely has that slick, "cool factor," but how does will this type of technology effect how we do business? I think first and foremost, we can take a cue from Qwiki when we determine our own web strategies. If experience is the future, we need to strive to create engagement with our websites, not just an encounter. We do this by understanding that people learn and gather information differently, so we should include a diversity amongst the types of media we display in our websites. Everything from whitepapers, blogs, images, demos to video testimonials, free trials, and webinars. Grow your website's resources around your topic of expertise and your website will become a hub of information to the people that are seeking it.
There's another thing we should keep an ear out for. Part of Qwiki's business model is to offer advertising to businesses. The thought behind it is that, while a user is giving his or her undivided attention during the information experience, it makes for a great opportunity for advertisers to reach consumers. Of course, this is a ways into the future and we still need to see people adopt this technology and this new way to search for information first.
Check out this video that was made the first time Qwiki was publicly demonstrated and join the alpha testing if you're interested in seeing how the technology works. Even though it's not something that you can wrap and put under the tree, it's awesome that we're encouraged to take a peek and offer our feedback!
Read the rest of the Internet Marketing Advent Calendar