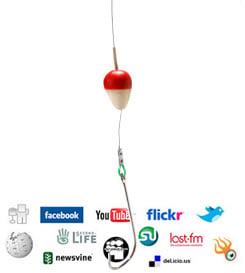 It is time to start thinking seriously about your social media campaign and how it can partner with your organic search efforts. Search engines see inbound links as a vote of confidence in your website and with Social Media you can actively take a part. Make inbound links work for you!
Who are your customers?

Once you figure out who your customers are – find out where they are online. Perhaps they are reading a certain blog, in a specific LinkedIn Group, in a Facebook group or somewhere else. We know by now who the big players are (Facebook, LinkedIn, Digg, et al.) but perhaps your customers are on a smaller niche site. All the better for you. Join them wherever they are and start participating.

Participate

Gun shy? Then just listen for awhile. After some time passes I am sure you will get much more comfortable and have something to say. Start with a few comments on another person's blog or post. Leaving comments on other blogs can do great things for your website. Social marketing is as successful as it is because it is so easy to do. All you need to have is a shared interest with someone else and a way to communicate with them.

Make something great

This isn't all smoke and mirrors, you do have to create good meaningful content for Social Media Marketing to work for you. This shouldn't scare you. You are already considered an expert on something. You should share your knowledge with your potential customers and business partners. Teach people how to do something new, share industry news or whatever it is you have to contribute.
As we know search engines have tons of factors on determining where your website ranks, inbound links are just one of the tools in your toolbox that you can have an impact on. After you have created your fantastic keyword focused website and made your insightful blog entry you need to continue to get that content out on social media sites. These sites are generally free and all it takes it a little time and the passion to meet other people who want to know more about your product or industry.
---
Want to know more right now?
Read: 5 Tips to Take Charge of Your Social Media Strategy
| | |
| --- | --- |
| | Wondering what del.icio.us, StumbleUpon, LinkedIn and Squidoo can do your for business? Get the dirt on Web 2.0 and beyond in this introduction to the major social media networks with tips on how to create and maintain a profile for your business for best success. |
| | Sure, you've heard of this crazy "hot app" called Twitter that enables you to micro-blog your story in 140 characters or less… but you already have enough to do, right? Hold on a second – This webinar that talks about Twittering for Business and how you can use this slick service to keep in touch with what you customers are saying and create valuable discussions. |