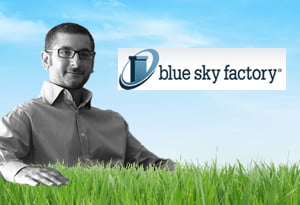 In my last Spring Inspirations post I spoke with David Meerman Scott about Social Media, going viral and world wide raves. Now with record breaking temps taking over the east coast Spring may have been skipped and gone straight to Summer. We took this opportunity to talk to Greg Cangialosi, CEO of Blue Sky Factory about what's HOT in Email Marketing and Social Media.
We have heard all the buzz about Social Media but partnering your social media efforts with an email marketing campaign is a solid way to get measurable ROI at a low cost to you. No one knows and executes this better than Greg Cangialosi who has been helping his clients succeed with new media for years.
Here is our quick interview with Greg:
Over here at Hall we are BIG email marketing advocates and love helping small businesses develop their strategies. I love what you guys at Blue Sky Factory are about and how you are sharing your message with the world.
Everyone seems to be getting on board that they need to design their marketing strategies to get the highest ROI for their investments. Why do you think Email Marketing is such a great tool to have in your toolbox to really use your marketing dollars effectively?
Communication with customers and potential customers is key. It's important to stay in front of, and listen to, your audience, especially during an economic decline. Email marketing is an extremely effective tool because of its ability to make messages relevant to subscribers. By collecting your subscribers' information through your opt-in form or subscribers preferences, you're able to segment your lists and send targeted messages to your audience. By saying "happy birthday" to your subscribers or reminding them that they may be running out of your product based on their previous purchase, they'll appreciate the personal touch.
Email marketing is also measurable, so you are able to find out who opened your email, how effective it was, or even which pages were clicked through most frequently. You can use that information when planning your next campaign.
I was able to attend your webinar on Email Marketing, Social Media and Mobile Technology.
For those who were not fortunate enough to participate (yet) what is your take on the partnership of Email marketing/Social & Mobile Media?
These three mediums offer the most interactive ways for people to engage with your brand. They are two-way, direct channels. It is important for companies to use each medium to complement the others – whether it's using email to alert your audience of your Twitter and Facebook accounts, or using text-messaging to have your audience sign up for emails, they can work together communicate with customers and prospects. Your audience may want to choose which method is used to reach them, or you can send complementary messages through multiple channels in a staggered "drip" campaign.
View Bluesky's webinar: Intersection of Email, Mobile and Social Media
For smaller businesses who aren't quite ready for the mobile revolution, what is the most basic thing about mobile media that they need to keep in mind when they are developing their marketing strategies?
SMS (or text-messaging) is the fastest-growing interactive marketing channel worldwide. Take advantage of text-messaging's immediate, direct reach. A recent study showed that 94% of text-messages are actually read. Why not try it out, see if it works for your company. Test different messages, find out what your audience will respond to, and develop a larger strategy based on that.
We are preparing for our biggest conference of the year for Sage Insights in May. Blue Sky Factory is always hitting the streets to spread their message. What is the biggest thing you think people can do at a trade show or event to get the most out of that opportunity?
Network! Attend the smaller events within the larger event, talk with as many people as possible, participate in the event's conversation on Twitter (via hashtag). Follow up with your new contacts after the show, and connect with them through social media sites. Building relationships is key, and events are a great way to start building beneficial relationships.
What do you think are the 2 most important things for any business that is looking to get into email marketing to know?
1. Build your list organically. Don't buy your list or opt-in your contacts for them. It's important for subscribers to voluntarily opt-in through a form on your website or giving you a business card at an event (just make sure you ask them first!).
2. Try new things & constantly test. Try sending at different times of the day, try different creatives, try different subject lines, and more. Take advantage of your ESP's A/B Split Testing feature – it's a great, streamlined tool that will help you test various elements of your email campaigns.
Back to Spring Inspiration – what inspires you each day to make today an even better day than yesterday and keep telling people about Email Solutions?
It's an exciting time to be in this industry. There are constantly new and innovative tools being introduced on the market. One of the latest trends in email marketing is "Share with Your Network (SWYN)".  SWYN allows email subscribers to very easily share the email with their networks on Facebook, Digg, Twitter, etc.
The reach that email marketing has is growing every day, and the possibilities seem to be endless. Email is here to stay, and continues to provide a relevant, cost-effective medium for marketers. We often see success stories, and that makes us want to help other companies gain success through email as well.
---
Read: The Importance of Building Your Email List Organically