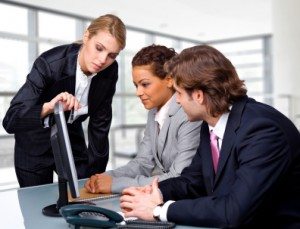 Are you thinking about designing a new website or revamping your current site? Think about your overall web strategy and what tactics you will use to accomplish that strategy. I like to use the analogy of your website being your virtual office.
Web design & development
Remove clutter from your office and make it comfortable for your guests. Use design elements like color and images that relay a welcoming feeling, so people want to visit your site, and hopefully stay a while.
Do people have a hard time finding where they want to go? Display signs clearly so visitors can navigate their way seamlessly throughout your office. Ensure the traffic to your website can find information easily – if they can't, they will leave your site to look elsewhere and you lose a lead.
Content
When guests come into your office do you bore them with the history of your company or do you give them the information they want? If you have an idea of what guests want before they come, you can tailor the information to them – like using landing pages.
When guests come back multiple times, don't tell them the same thing each time they visit, give them new information and insight. For example, write a blog that is updated regularly.
Organic Search Marketing
When people are looking for services or products you provide – make sure they find you! Putting signs up in front of your business, having a good reputation and word of mouth, and being able to be found in business listings are just like ensuring you have a good organic search plan in place.
Respect expectations. If you sell oranges but you put up a sign that says you sell bananas just to get people to come to your fruit stand, people will be turned off and turn away. In terms of SEO, use keywords that pertain to what you offer and who you are offering to.
Paid Search Marketing
This is just like paying to put an ad in the newspaper or a commercial on television. You want to make sure the content you put on the ad relates to what you are offering. The ads should direct people where you want them to go to receive the service – call a phone number, visit your office, go to a website, etc.
Geographical targeting is important to think about too – if you sell snowmobiles, you are not going to put your ads on Hawaiian television. It's better to have a smaller target to attract more quality leads than to have a large target and attract mediocre leads.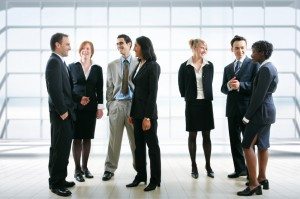 Connecting with people
As a businessperson, you attend events and communicate with your clients on a regular basis. You can do the same thing online by becoming involved in social networking. Connect with others in your line of business to stay on top of industry news and be available to your customers to get their feedback and ensure their satisfaction.
When you connect with people online, use your website as a resource for them to go to learn more about you. Similar to how you want your website to be your virtual office, you want your online personality to resemble your professional persona.
Evaluate and Assess (adjust if necessary)
Can you tell how people feel when they come into your office? Are they buying your products? Are they telling their friends? Do they come back? These are all questions you want to ask about your website too. Check your analytics, set up goals and track them. Pay attention to make sure your calls to action are being completed and forms are being filled out.
Don't wait for negative feedback; be proactive about acquiring positive feedback. Try to be one step ahead by monitoring your traffic and trends occurring on your website. If something isn't working, adjust and then reevaluate.
It can be helpful, when planning your web strategy, to think about your website as your virtual office. As much preparation and detail should go into your website as does choosing and designing your office space, deciding how to market yourself and who to conduct business with. Overall, you want to guarantee you give your visitors a good experience that makes them want to come back and do business with you.