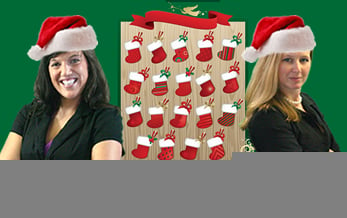 This is an entry in our daily Internet Marketing Advent Calendar series. Each day your favorite marketing elves Kasi and Amanda will focus on a new topic to get your internet marketing in order before the start of the new year.
You can rank #1 for all your keywords by having a well-optimized site, but what's the point if the content on your site, well…stinks? It's not enough just to have a lot of traffic. You need to leave your visitors some milk and cookies (read: good content) in order to encourage them to stick around (and keep coming back).
It's Not About You

It's natural to want to go into great detail about your company on your website. If you're not telling people how your product/service is going solve their problem/fulfill their need, however, you will practically be able to hear your bounce rate go up (boing!). What I'm trying to say is that it's not all about you. Your content needs to be written in a way that is focused specifically on how you are going to help the person who is visiting your site. Make it all about your target market.
Keep it Up-to-Date
Quality content is key, but if it's old, it loses its effectiveness. When I visit a site that has information about sales that have expired, sign-ups for trainings that have already passed, or a blog that hasn't had an entry in 4 months, I figure that the company is not interested in investing time in their site.  So why should I?  Your website, much like my sweet little shar pei, needs constant love and attention.  Be sure to keep current on your offerings, look over and freshen up your web copy every so often, and make regular blog posts a must (if you can't commit to the blog, you might as well ditch it).
Want more?  Check out this post about how important content is for B2B sites.
Read the rest of the Internet Marketing Advent Calendar