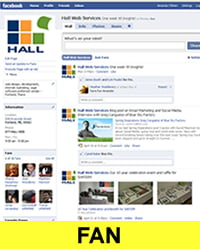 I had a meeting the other day and the topic of the difference between Facebook fan pages and Group pages came up. I will admit I was not aware of all the subtle differences . So I did a little research and here (as simple as I can put it) is what I found out.
You have probably seen both of them – Fan pages (top image) look like regular profile pages and group pages (bottom image) have profile pictures in the top right and the content stream is below.
Facebook fan pages are meant to be set up to "represent a real public figure, artist, brand or organization, and may only be created by an official representative of that entity". Group pages "can be created by any user and about any topic, as a space for users to share their opinions and interest in that subject." More info here
If you are a group admin your name will show up as a representative of that group. Fan pages do not display the admin's name.
Facebook Group pages have been around the longest and are very easy to set up. One of the biggest differentiators seems to be with how you communicate with the members in your Group. When you communicate with your members they get a facebook email in their facebook inbox (as long as your group has less than 5,000 members).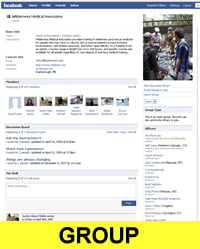 When you send an alert to fans it appears as an alert in the top right of your home page (no limit to number of members). With Fan pages you can target your messages by sex, location and age. Sometimes these alerts on the home page can get lumped in together and not read. A word of caution, too many emails to your group members and you are sure to be ignored so go for quality over quantity.
Search Results for Fans vs. Groups
Groups are not search-able through traditional search engines like Google, you can only search them within Facebook. Fan pages ARE index-able by search engines and in Facebook.
Recruiting and Adding Members
In groups you can send bulk messages to friends asking them to join your group which makes recruiting easier if you already have a large list to connect with. With fan pages you can connect with people one at a time or provide a URL on your website or your Facebook page pointing people to the fan page.
Fan pages are also randomly suggested to you on your home page in the upper right hand corner. Facebook will often just show other fan pages that your friends are also fans of and will position them them so you can easily join them if you choose.
On both group and fan pages you can add photos, videos, discussions etc.   However, on fan pages you can also add your blog feed, Twitter feed, StumbleUpon, quizzes etc.  Some feel this adds useful content to their Facebook page, others think it just clutters the page.  With group pages you cannot feed in outside content.
With groups you can restrict access or make it mandatory that people are pre-approved by an admin before joining group.  With fan pages you can only restrict people by age or location.
Fan pages offer you "Insights," or daily reports on how many people are visiting your fan page and offer you the option to place social ads on facebook. Groups do not.
Which One Should You Choose?
Facebook fan pages seem to be trending as popular right now but Groups are still holding on strong. You need to weigh these subtle differences and decide what aspects are more important to you. A major generalization I am going to make is if you need more control over your content perhaps a Group is a better choice for you. If you are looking for your Facebook page to be more of a running conversation from all walks of people interested in your products, services, company, employees etc. a Fan page is best.
| | | |
| --- | --- | --- |
| | Fan Page | Group Page |
| Look like personal profile page | Yes | No |
| Analytics or Insights (tracking) | Yes | No |
| Option to advertise ($$) | Yes | No |
| Applications – Blog feed, Twitter Feed | Yes | No |
| Admin can post photos, videos, discussion | Yes | Yes |
| Members can post photos, videos, comments, discussions | Yes | Option to be approved by Admin |
| Admin name shows up on Page | No | Yes |
| Communicate with Members | Alerts on members home page | Emails in Facebook Inbox |
| Indexed by Search Engines like Google | Yes | No |
| Recruiting members | URLs or alerting people individually | Bulk Facebook email option |
| Restricting who joins | Age and Location restrictions only | Option to be pre-approved by Admin |
UPDATE 02.24.10 – If you are looking for some more information, Facebook just published a blog Facebook Tips: What's the Difference between a Facebook Page and Group?
UPDATE 03.05.10 – Mashable also has a nice post about the differences between Facebook Fan pages and Groups. Thanks to Charlene Burke from Third Tribe for bringing this one to my attention.