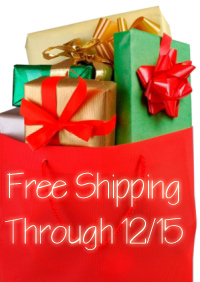 Happy Thanksgiving Week!
This Friday will mark the official beginning of the 2007 Christmas shopping season, commonly known as Black Friday. Mobs of shoppers will be out the day after Thanksgiving grabbing $399 Dell Laptops, $199 Panasonic DVD Camcorders & this seasons hottest toy, Squawker McCaw by the cartload..or at least until quantities run out.
Luckily for online shoppers, like myself, we have Cyber Monday!
Cyber Monday, dubbed as the biggest online shopping day of the year, occurs the Monday after Thanksgiving. With online holiday sales expected to hit 39 Billion dollars, it is essential to make sure your e-commerce site is in tip top shape.
5 ways to increase online holiday sales:
1. Offer a time sensitive special. People love a deal! A Free Shipping special or 10% Coupon can literally turn a passing visitor into a customer. Encourage them to buy now by instilling a sense of urgency with a deadline on the special. For example: Free Shipping Until 12/15/07. Be sure to place the offer prominently on your homepage with an appropriate landing page to encourage users to buy now!
2. Ensure all your pages are working. The last thing you want is to find out that your customers,with credit card in hand and virtual shopping cart stocked, are getting an error message on one of your site's checkout pages. Do a test run on your site to ensure that all pages and commands are working properly.
3. Dress up your homepage. Just like decorating your home for the holidays, decorate your homepage. Add some Christmas colored text, a snow man or feature holiday themed products. Add holiday keywords to your products (P.S. Last year the term Christmas was searched over 3 million times a month.)
4. Use Pay Per Click. If you are not using PPC. Start. If you are. Up your budget. This is the time of year when you will see the biggest return for your marketing dollars.
5. Clearly display your delivery schedule. Buyers will want to know when to expect their shipment. Getting items delivered before Christmas is critical to online shoppers. By prominently displaying your shipping methods and delivery schedule, buyers will feel more comfortable buying from you.
Ready, Set , Go! You've got 1 week until Cyber Monday and 35 days until Christmas!