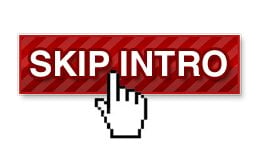 In a day and age where online users devour information at an alarming rate, it makes little sense to keep the beast from the feast. One of these obstacles keeping users (especially B2B's) from accessing important information is the flash introduction page.
You know…those fancy animated movies when you get to a website that were a GREAT idea in 1998 before any of us really knew how to leverage a website as a marketing tool? If you're not selling the hot new product that all the young kids love, a Animated Flash intros have got to go.
Even Google has a system to detect Flash intro pages and SKIP them in search results! What does this say about Flash animated introductions? It says "I have become such an annoyance to usability that corporations are developing options to bypass visual presentation to get to my content." This immediately classifies this situation as a bad practice. This is just another way Google is changing the way businesses market themselves online.
In the B2B environment where you are trying to convert visitors into partnerships and sales leads, there needs to be a strategic way to make graphic presentation compliment your valuable content. This strategy is not executed using animated loading spinning globes, "techie" styled designs and running water.
Effective ways to use flash within your online marketing strategy :
Create a low file size, animated header with key points and calls to action within the top 1/3rd of your index page.
Relocate those creative animations within a product demo or tutorial as a segue between scenes or talking points.
Integrate animation within a call to action piece for user conversion.
Navigation and usability is important. The user wants to be in control of what they can and cannot view. Failure to provide that freedom can lead to an increase in bounce rate. If a simple 20 second animation is getting in the way of a user and your contact form or buying decision, you have potentially lost a valuable networking opportunity or sales lead.
Use design to compliment, not complicate!