This is an entry in our daily Internet Marketing Advent Calendar series. Each day your favorite marketing elves will focus on a new topic to get your internet marketing in order before the start of the new year.
I'm sure most of you know a little something about Foursquare by now, but did you know that you can save money while you're holiday shopping when you check in at certain places? It's true, I don't lie. A lot of businesses are taking advantage of advertising specials on Foursquare to attract people to come to their venues and buy their goods.
On the game side, it's fun to collect unique badges, earn (and steal) mayorships, and follow your friends as they check into different places. From a business perspective it's a great way to attract people to your venue, grow brand awareness, and strengthen brand loyalty.
There are lots of incentives that businesses can set up using Foursquare; like:
Check-in specials – discounts simply upon checking in
Mayor's specials – discounts for the mayor (the person with the most frequent check ins)
Frequency specials – discounts based on how often you check in
and more…
Being a Foursquare user for almost a year now, I knew of a few places using Foursquare where I was sure I would get some good deals. For example, I know that American Eagle, one of my favorite places to shop, will give me  a 15% discount simply upon checking in – thus making it one of my first stops when I was holiday shopping. Very smart, American Eagle!
Then, I had heard that Radio Shack was running a special called "Holiday Heroes" where you can get a unique badge plus 20% off (qualifying) in-store purchases. For me, a new badge is enough to get me to come to your venue, but 20% off too!!! Radio Shack here I come! (Disclaimer: There were a few steps in actually obtaining the badge, you can read more about it here)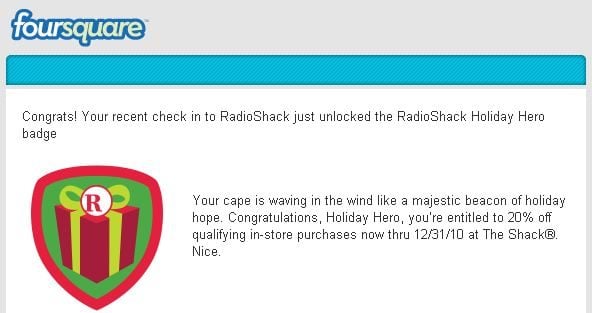 There's also a new tool that is going to make it easier for us to plan our holiday shopping based on using Foursquare. Snacksquare is currently in beta and  uses a map-based interface so that users can check out all the different venues on Foursquare that have specials.
To start cashing in on all these great Foursquare specials all you need to do is download the application to your smart phone and start checking in. As a consumer, you can have fun playing the Foursquare game and get some great deals. While businesses can use Foursquare to offer creative ways to bring more traffic through their doors and maintain relationships with their current customers.
Read the rest of the Internet Marketing Advent Calendar