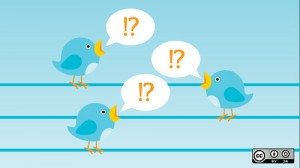 The other night I got to go speak to a great group of Credit Unions about Social Media Best Practices. As I was preparing my presentation, I was happy to find that there is a specific TweetChat exclusively for Credit Unions looking to use social media. What a cool way to connect with your peers on a topic and learn from each other!
If you are not familiar, a TweetChat is usually an organized regular event. The participants have a determined time to 'meet' on Twitter and discuss a certain topic. To mark their conversations, they use a hashtag. What you have is a large group chat and you can discuss your topic in real time with people from all over the world.
Why would you want to participate in a Tweet Chat?
Network with people like you all over the world – You can attend a Tweet Chat from anywhere. In your specific industry, you may have very different needs, customers, challenges and opportunities. Sometimes the most helpful ideas come from people who understand where you are coming from the best.
Establish yourself as an expert and build your network – An idea that may seem obvious to you could have been bogging someone else down for months. Share your experiences with your peers and establish yourself as an expert.
Get traffic to your blog and/or website – As you are meeting all these new people on Twitter, you can refer them to blog posts or services you provide around the topic you as a group are discussing. Also, just by networking with new people, you will generate some interest and traffic as they take a look to see who you are and what you are up to.
Get more qualified followers – If Twitter is merely a numbers game for you, you are probably not using it to it's full potential. How many followers you have isn't as important as WHO those followers are. By participating in a TweetChat, you will meet real people who share your interests, work in your industry, are experienced Twitter users and it will, in turn, boost your number of quality followers.
Participating in a TweetChat
Tweet chats can be whenever. Most are set to particular days and times of the week. Some have the same moderator each week while others cycle through guest moderators for a different feel each chat. Most TweetChats run about one hour.
So how do you find a good TweetChat for you? There is a pretty reliable schedule of TweetChats that you can refer to. Once you try one out, you may find others people like to recommend specifically for the topic you are most interested in.
Where to start?
Some of the more popular business TweetChats are:
#blogchat, Sundays 9P EST – all about blogging. Mack Collier brings in some great guest moderators. This is a very popular one so be prepared to read a lot of tweets.
#smallbizchat, Wednesdays 8P EST – for small businesses and startups.
#B2Bchat, Thursdays 8P EST – a chat specifically for those of us in B2B industries.
#LeadershipChat, Tuesdays 9P EST – leadership themed.
Some of these chats are more popular than others and keeping up can seem overwhelming. To keep up with a TweetChat you can either just use a Twitter search or if it is a popular one, use the service TweetChat to keep up with rapid tweets.
The first few times may seem a little odd but once you get into the swing of things you will really come to appreciate some of the conversations you have and people you 'meet'. If you don't feel like you have anything to say, feel free to linger in a chat until you do. As with all of your social media marketing and content – make sure when you participate you are adding value to the conversation!
Photo credit: opensourceway