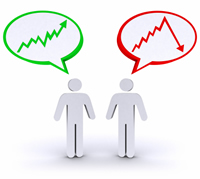 The economy is challenging all of us.
Small Businesses have been overlooked, for the most part, by the government's plan to stimulate the economy and it looks more and more like we will be relied on for the recovery. Whether you agree or disagree with the effectiveness of government intervention in a free market economy, you cannot deny the role SMB's will have to play to get things back on track. After all, Small Businesses have done more for the economy than any other sector in the last 10 years. We have added more jobs, contributed more to GDP and contributed much, much more to innovation than any other group. As we drove growth over the last 10 years, we will drive growth over the next 10.
Did you know:
There are over 27 million of us.
We employ over half of the country's private sector workforce.
We represent 99 percent of all employer firms.
We represent 97 percent of all the exporters of goods.
We generate the majority of innovation that come from US Companies.
We have added 60% to 80% of the new jobs annually since 1998.
Source: U.S. Small Business Administration Office of Advocacy, September 2008
Right now the global economy needs us, so what can we do?
Here are five recession busting moves you can make:
Strengthen your current business relationships.
Expand your reach.
Personalize your marketing efforts.
Remember that this will be over at some point.
Double down on You!
1. Strengthen your current business relationships.
Every company is judged and valued by the relationships that make up that company. These relationships all contribute to and effect cash flow, sales forecast and profitability. This includes the obvious, like your book of business and vendors agreements, but also includes other things like leases and the relationships that employees have within a regional economy.
A company is the collective value of all customers, vendors, leaseholds, debt service etc. plus employee debt, rent or mortgage. Each business is just a vast collection of relationships that have a great impact on the economy. So to strengthen the economy, strengthen those relationships.
Contact current clients and talk with them about how you can help them with the challenges they face. Keeping lines of communication open encourages referrals.
Reinforce with your vendors that you are a committed client – remember they are SMB's too and their opinions of the economy may affect their actions. Knowing good customers are there for them is important to their confidence and their propensity to buy services from other SMB's. They purchase your services from your client or from a prospect. It is good for all Small Businesses when any one of us has more confidence.
Let your local news outlet know good news associated with your organization. Public confidence is a big part of an economic downturn and good news will help sway perception. I am a strong believer that bad news sways consumer confidence and hurts the recovery.
2. Expand your reach
Many SMB's are doing well and able to purchase the service you provide. Connect with them. This sounds idealistic, but finding forward thinking businesses that are leading in their vertical markets who may be outperforming GDP and build relationships with them.
Use the relationships you strengthened in the previous step to find these companies by asking a trusted client or vendor specifically to help you target companies in a specific market. You might be surprised at the positive response.
Use similar businesses or complementary businesses to build partnerships – sharing a potential project or prospect will encourage reciprocity and expand your influence.
See a single new opportunity outside your area as a chance to gain more than a sale. You have an opportunity to gain that businesses sphere of influence – sometimes it take just one good customer in a specific vertical market to open up that marketing for you.
3. Personalize your marketing efforts.
Business is personal. You know it, because your small business, like mine, is the realization of a dream. It has taken great commitment, long hours and hard work. A good decision and your business is doing well, a bad one could trigger the end of everything you have worked so hard for.
When you market to other small businesses deliver an honest message and lower their risk. Tell your story and find businesses that are good fit for you and you for them. When you see your customers as the intimate part of your company that they really are and not as a check and an invoice, you will see that marketing to them needs to come from you in a more personal way.
This may take more time and effort, but can deliver great rewards. Social network marketing is a gaining momentum because it allows research buyers to learn more, lower risk and get personal with vendors. Reach out and join discussions to increase your reputation, meet other people in your sector and provide risk lowering, research ready content for prospect and partners.
Read, contribute, share and meet through these channels. Be the real you and deliver honesty. If when your company is exposed to the business world in an honest way and you are not the best choice for someone as a result, that is a great thing, you have eliminated a customer you are not a great fit for.
4. Remember that this will be over at some point.
Recessions don't last forever. It is the cycle of capitalism. We grow until we grow too far and then we retract. A recession is based on the perspective of where it started – the decline in growth from the previous quarter and the quarter before that… The economy always will rebound. Every small business that remains focused during this downturn will be ready for the recovery and that is exciting. Becoming leaner and more focused on relationships can only help gain market share as times get better. When things pick up, be ready.
5. Double Down On You!
When you started you company, you were the best investment opportunity you had at the time. Right now, you do not have to grow your company very much to out perform other investments. And as the economy recovers, as it always will, time and effort spent today making your organization stronger will return 10-fold in the future. Now is the time to push harder for all of us. We can do it!