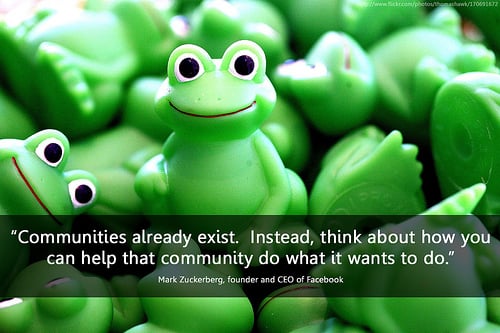 Photo Credit: Will Lion
So apparently you need a Facebook page, a LinkedIn Account, a Twitter account and then all that is left is to kickback and wait for the money to roll in.  Right?
…No? That has happened yet? But you did all the stuff on your checklist… Wait? Not so much?
Please don't join Facebook because your competitor did. Please don't start tweeting because you heard some lady made $11,000 with one tweet. That isn't how you are going to succeed. You need to come up with your own objectives and plan to create your online community.
Your online community will rally behind your events, industry news and help you spread your content further. One snag… if you think you are ready for a vibrant online community then you also must be ready to let go of control.
Your community is about connecting like-minded people with the same interests, not about creating carefully crafted boring messages and hoping that they get passed around. Social media can be raw. The content shared is because of passion for whatever people are sharing with their network.
Traditional marketing relies on message crafting and reaching as many ears and eyeballs as possible. New media marketing shifts to letting your message be shared by your community and stopping that focus on how many impressions to WHO is hearing your message and WHAT they are they going to do with it.
The pendulum is swinging back from those perfectly crafted messages to each member of your community creating that value. Online your customers trust the word of members of their online community over a television, radio or direct marketing piece. How you participate on these communities is important.
If you decide to turn a deaf ear to these conversations online you have to understand that does not mean people are not talking about you, your products, services, employees, brick and mortar store or anything else. You do not get to choose IF you are going to be a part of these communities. You only get to choose if you are going to participate and what actions you take in engaging these online communities.