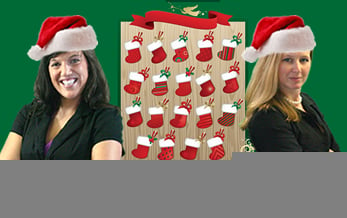 This is an entry in our daily Internet Marketing Advent Calendar series. Each day your favorite marketing elves Kasi and Amanda will focus on a new topic to get your internet marketing in order before the start of the new year.
I recently had a very interesting conversation with my mother-in-law about social networking. She is the creative director for Portland Ballet, who is probably best known locally for their traditional Victorian Nutcracker performance each year. She is feeling the pressure to be more active on social networking sites but she has a major dilemma she is working through – almost all of their 'content' is protected under creative content licensing. The music, images, how a ballerina points her toe a certain way is all protected. She cannot run the risk of a guest at one of her shows shooting video with their Flip cam and uploading it to YouTube or photos to Flickr etc. I am fortunate to not have the same legal concerns she does but it got me to thinking about how we decide whether or not to protect our content online.
Protecting Your Content
We in the B2B world love to hide our content, behind long forms to capture data, through opt-in only lists, password protected sites etc. Why do we do that? If your content is hidden behind a form yes, you will get the reader's information for them to download but you lose a lot of people at that form as well. Would you rather the 3 forms filled out or your content to be free and seen by hundreds of eyes? That is a choice you and your organization have to make.
Spread your information
Seth Godin recently wrote a post How to protect your ideas in the digital age where he talked about this same topic. Seth's take is to spread your good ideas. Let people know what a resource you are and then they will come to you when they are ready to start a business relationship. What is your take on protecting your online content?
Read the rest of the Internet Marketing Advent Calendar