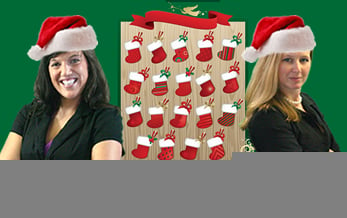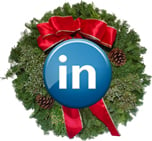 This is an entry in our daily Internet Marketing Advent Calendar series. Each day your favorite marketing elves Kasi and Amanda will focus on a new topic to get your internet marketing in order before the start of the new year.
You all know the story of the Velveteen Rabbit… a child's old favorite toy that was not to be replaced with all the shiny new toys that came along. Well I am going to call LinkedIn our Velveteen Rabbit of Social Networking sites. LinkedIn was live in 2003, which is eons ago in the social media world (remember there was not public Facebook until a few years ago). Today LinkedIn has remained one of the biggest social networking sites while others have come and gone. Not only have they remained, but they have continued to prove themselves as a business, recruiting and networking tool.
Why has LinkedIn not lost a step?
LinkedIn was originally thought of as just your online resume. As time passes and users want more functionality, LinkedIn is there with an update, new functionality and resources we didn't even know we needed yet. I think other social networking sites have 'stuck to their guns' (for example: "We are a website for connecting with old classmates") and when their users want more, the company bucks with 'that isn't what our site is for'. LinkedIn started strong with their online resume pitch and Questions and Answer sections but they have continued to add to that strong foundation.
Recent Additions to LinkedIn
New Mobile Interfaces – LinkedIn recently redesigned their iPhone application and as an iPhone user I think the new layout is much better. If you BlackBerry users have mobile LinkedIn envy, no need to fret anymore as LinkedIn is now available on your Blackberry as well.
Integration to Outlook and ACT! – LinkedIn is soon going to be integrated with Outlook so you can easily communicate with your LinkedIn network through your Outlook. You can also collect and learn more information about your customers with the new Social Networking Technology in ACT! 2010.
New, easier navigation – We are movin' and shakin' faster and LinkedIn studied some of their users and how they navigate around the website. They took that data and created a new way to navigate around to get the information you want faster.
Tweet your LinkedIn Status – You can now update your LinkedIn status from Twitter just by using the hashtag #in and you can update Twitter right from your LinkedIn status. What a time saver! You can also add your Twitter ID to your LinkedIn bio right underneath your website.
I look forward to hearing about new additions to LinkedIn in 2010!