Psssst…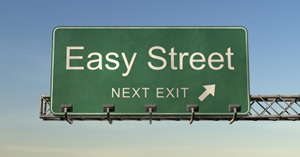 I like you guys and girls so I am going to share a secret with you about how to own your social media marketing strategy. Ready?
Keep it simple, Silly Goose
I could have said 'keep it simple stupid' but I didn't. You aren't stupid but sometimes trying to keep up with Facebook, Twitter, your blog, LinkedIn, Blip, etc. you can feel a little bogged down.
So why are you trying to keep up with ALL of it? Is it ALL working for you? Probably not, honestly. So why not trim the fat and really own the communities that work best for you?
I just read a great B2B case study blog by one of my favorite bloggers/authors David Meerman Scott but what caught my eye was one of the comments (by the guy the blog was about):
"Social media can seem so overwhelming on a corporate level so it's great to see examples like this. You don't have to do everything. Just do something." – Colin Warwick
Colin took his key search terms he wanted to be found for and created a business blog. Is he on Twitter, Facebook, LinkedIn? I don't know. Doesn't really matter. The blog is what worked for them and since David Meerman Scott's blog post about their efforts, I bet they are going to get a lot more love too.
You don't have to do everything. Just do something
Of course I think social media marketing is important, it is my job and I am very passionate about it… but I know it isn't for everyone and I know it can seem totally overwhelming. Take some time to research social media sites and see which ones could work for you. Ask your network, your customers, industry leaders – what are they participating in and how is it working for them? How much time does it take? How many people contribute?
One of my coworkers recently went to Goodwill and the clerk gave him a survey to fill out asking what social networks he participated in. Interesting and easy way to find out where the people who donate or shop at Goodwill are spending their time online.
Your customers are online and are having conversations about just about everything. You just need to find out where they are, then reach out and provide them with the content they want. <—- That is VERY important. Not the content you want to produce but the content your customers are already looking for online. Got that?
My boss isn't on Facebook, Twitter and had no idea what Second Life was till I told him
Don't tell him I said this but he is one of the smartest people I have ever met (no I am not sucking up. He is actually very smart). Tom uses LinkedIn. Everyday. He likes it. He gets it. He has great business conversations on there and has gotten some powerful leads from his network on LinkedIn. Why should he dilute his message or spend more time on countless other networks? This works for him and we get substantial traffic to our website from his activity on LinkedIn.
What is going to work for you? That is for you to figure out and it may take some trial and error to figure out. If you do find yourself overwhelmed trying to keep up with it all, perhaps try budgeting your time with social media or maybe you are spending your valuable time in the wrong places. Cut out the noise and focus on what works best for you and your business.