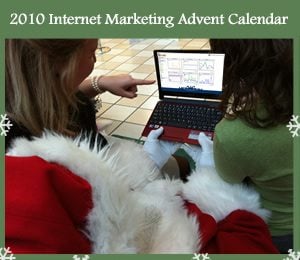 This is an entry in our daily Internet Marketing Advent Calendar series. Each day your favorite marketing elves will focus on a new topic to get your internet marketing in order before the start of the new year.
As in previous years, we like to reflect on what people searched for online over the course of a year. The stats have recently been released; some were aligned with my predictions and some I had never heard of before (HMU…?).
Here is how we searched in 2010 and the stuff we were talking about on Facebook and Twitter:
Google – Fastest Rising
1. Chatroulette
2. ipad
3. Justin Bieber
4. Nicki Minaj
5. Friv
6. Myxer
7. Katy Perry
8. Twitter
9. Gamezer
10. Facebook
1. BP Oil Spill
2. World Cup
3. Miley Cyrus
4. Kim Kardashian
5. Lady Gaga
6. iPhone
7. Megan Fox
8. Justin Bieber
9. American Idol
10. Britney Spears
1. Kim Kardashian
2. Sandra Bullock
3. Tiger Woods
4. Lady Gaga
5. Barack Obama
6. Hairstyles
7. Kate Gosselin
8. Walmart
9. Justin Bieber
10. Free
Facebook – Status Updates
1. HMU
2. World Cup
3. Movies (various)
4. iPad and iPhone 4
5. Haiti
6. Justin Bieber
7. Games on Facebook
8. Mineros/Miners
9. Airplanes
10. 2011
Twitter – Top Trends
1. Gulf Oil Spill
2. FIFA World Cup
3. Inception
4. Haiti Earthquake
5. Vuvuzela
6. Apple iPad
7. Google Android
8. Justin Bieber
9. Harry Potter & the Deathly Hallows
10. Pulpo Paul
2010 is the year of "Bieber Fever"
I had predicted many of these would come up and it appears that, collectively, the above lists are made up of celebrities, technology, and current events. I noticed right away that Justin Bieber topped all search engines queries, Facebook statuses, Twitter trends, and was featured in YouTube's #9 top videos of 2010 – not a big surprise there. Bing and Yahoo's top searches were similarly mostly made up for celebrities (could this be due to their recent merger?)
Surprises! Chatroulette and HMU???
It's very interesting to me that Chatroulette topped the Google search, especially for all the controversial content associated with it. Plus, I'd never heard of "HMU" prior to reading the Facebook list; maybe I'm not as hip as I thought I was. "HMU" was used quite frequently during the summer months on Facebook – meaning "hit me up" when people were trying to get together with friends. I'd also never heard of Friv, Myxer, or Gamezer; all which topped Google's searches. This makes me wonder about the types of demographics that use the different search engines.
Tweeps are on the ball
Twitter, compared to the rest of the lists, shows that they're a little more into current events – with only one celebrity topping the list.  What does it mean? (Said in my best Hungry Bear voice – YouTube's #6 top video of 2010.) Man, I could analyze these lists all day! I always find it interesting to see what's on the minds and it gets me thinking about what things will happen next year.
Check out this cool video that highlights how the world searched using Google's 2010 Zeitgeist:

Read the rest of the Internet Marketing Advent Calendar