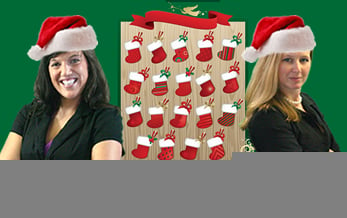 This is an entry in our daily Internet Marketing Advent Calendar series. Each day your favorite marketing elves Kasi and Amanda will focus on a new topic to get your internet marketing in order before the start of the new year.
Why Long Tail?
Long tail keywords (phrases that are 3-5 words in length) are very helpful to add into your organic search marketing campaign.  Although you will probably have less people coming to your site with this longer search term, this traffic will be more qualified.  Why?  These visitors have something specific in mind and if you offer what they are looking for (and have optimized your site for it), they are more likely to spend time on your site and research your company.
Find New Phrases
Let's say that you are a retailer who sells Christmas ornaments and other related holiday items. Obviously, "Christmas ornaments" is a short tail and competitive keyword (a Google search garners over 7 million websites for that search). But what are some relevant longtail keywords that you could optimize your site for or write about in your blog? Just go to Google and start typing "Christmas ornaments" into the search box and check out the options that Google Suggest offers to you. It's a quick way to get ideas and see what phrases would be worthwhile to target. And you can do the same in Yahoo and Bing as well.

Implement Them
Once you've found the terms that are relevant to your product or service, all you need to do is write your website content for them and optimize the on-page SEO elements.  It's also great for blogging, because it can start generating ideas for posts about information that people are obviously searching for (don't forget to use the phrase in your title and in the body of the post, too).
Read the rest of the Internet Marketing Advent Calendar