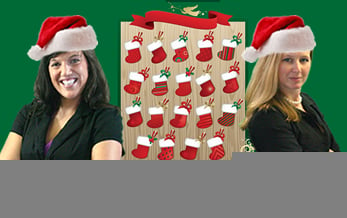 This is an entry in our daily Internet Marketing Advent Calendar series. Each day your favorite marketing elves Kasi and Amanda will focus on a new topic to get your internet marketing in order before the start of the new year.
They are everywhere: predictions, predictions and more predictions! These are dynamic times, the internet is changing so quickly. What changes are important? What changes will be silly in a few months? Who is going to buy who? Who is going to go out of business? Who will pop up out of nowhere and take us by surprise?
I would like to see more people review their predictions from last year and see how they did. Predictions are tough and usually pretty baseless. How about instead of predictions we talk about a few things we need to make sure we have lined up for 2010?
What you must know for 2010:
Social Media should be less about social media and more about how businesses just do business – Compare it to the 'dot com bubble' or whatever you want but social media is going to be less of a thing and more of a regular business process. Companies should find out how they can work social media into their daily lives and just make it a part of doing business, another touch point, another way to communicate. With this adaption, companies should start implementing social media policies just like other company policies.
Figure out what real time search means for you – Whether you are on board or not, real time search is happening. How you see your Google results will differ from how someone else sees them – depending on their preferences and when they look something up. What does that do to you? How does that hurt you? What opportunities do you see?
Mobile smartphones are having an impact on how, when and where people view your content – Someone can easily read your enewsletter while they are on their family ski vacation. Using the GPS on my phone I can find the closest businesses to me at my current location. People aren't following up with an email when they get to their desk at 9am anymore. The internet has wheels now and can go with us just about anywhere. Make sure your website is available on mobile browsers. Add your company to Google Maps. Remember your content is at your audience's fingertips, no matter where they are.
Corporate transparency will make and break deals – You need to have some type of face for your company. This could be photos of your staff on your About Us page, LinkedIn profiles, a Twitter account etc. People want to do business with people and they don't want to be burned by nameless/faceless companies. How much you are willing to share is up to you and your company. Some boundaries have been and will be crossed as we add more personality to our businesses but each one is a lesson.
That is all I have right now for non-predictions. Try not to become anxious keeping up with internet marketing changes. Stick with the basics and when that isn't enough, look for new opportunities. No one is sure what the next big thing is so don't buy in just yet. Predictions are fun (and sometimes funny) but they shouldn't be the building blocks to your 2010 strategy. Remember: The most important part of the house is the foundation. Don't spread yourself thin with new toys and tricks.
Read the rest of the Internet Marketing Advent Calendar