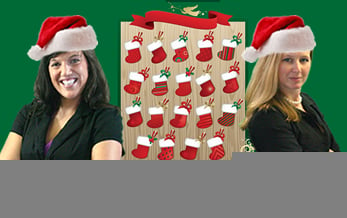 This is an entry in our daily Internet Marketing Advent Calendar series. Each day your favorite marketing elves Kasi and Amanda will focus on a new topic to get your internet marketing in order before the start of the new year.
Back when I was a kid, the internet wasn't around. I mean, it had been developed and all that, but it wasn't accessible to us "regular" folks yet. So, aside from a newscast here or there about his whereabouts, I just had to believe that he would make it to my house that night. I couldn't obsessively see where he had already visited and track his path.
Kids today are so lucky! Now, just by doing a simple search, they can find tons of Santa Trackers at their disposal! When I typed "Santa Claus" into Bing and Google, it actually suggested "Santa Claus tracker". Check out some of these cool sites and enjoy!
I wish you and your families a very Merry Christmas and Happy Holidays! Thank you so much for tuning in this month to our Internet Marketing Advent Calendar.
Read the rest of the Internet Marketing Advent Calendar